Most laptop stand mounts are built specifically as desk mounts, attaching through a clamping system to a tabletop. You may or may not be surprised to learn that there actually aren't that many products designed to hold laptops that are meant to be mounted to a wall. But there are plenty of reasons why you'd want to mount a laptop stand to a wall which makes it a bit perplexing that there aren't more products available to do just that.
Whatever your reason for needing to mount a laptop stand to a wall you're in luck – while there aren't actually that many options available, the ones that are available are of excellent quality.
I'm going to cover my two favorites, one is perfect for most people (the Fleximounts arm) and the other is perfect for those needing to either hold a little bit of extra weight or who need a longer arm (the Sunter98 stand).
Best Overall: Fleximounts M10 Laptop Wall Mount
Best Overall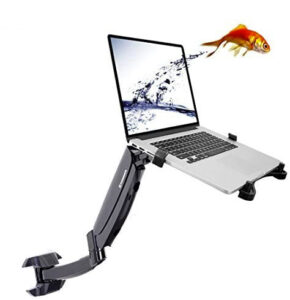 Sturdy, flexible and a good price
The Fleximounts M10 Laptop Wall Mount gets the award for the best overall mounted laptop stand. It's sturdy, flexible, easy to maneuver, and can hold essentially any sized laptop. There's really not much more you could ask for from this product.
View on Amazon
Laptop Sizes
11" to 17.3"
Vertical Joint Tension
Gas spring resistance
Installation Time
10 Minutes
Works for All Laptop Sizes
This laptop stand will work almost all types of laptop sizes, stating its compatibility for those that fall within the range of 11″ to 17.3″. There aren't many laptops made these days that aren't in this range so this will work for 99% of people.
Weight Capacity: 9 Pounds
This laptop stand will hold up to about 9 pounds though I would probably recommend keeping it closer to around 7 or 8 if you can. If you're testing the upper limit of this weight load you will definitely want to make sure that you're mounting this into a proper wall stud, especially if you're typing on it,
Gas Spring Joints
This stand uses gas spring joints which makes it feel sort of like hydraulics…it's easy to move left to right, up and down and swivels easily too but it won't move unless you apply force. You can also customize how easy it is to move this arm up and down by turning (with an included allen wrench) the device in the joint. Once you have it to the desired strength the monitor arm will stay in the same position, even with force applied downward on it by your laptop.
Easy to Install
Most people report that it only takes them about 10 minutes to install which I also found to be true. While it is quite sturdy, some people mention that they installed using some longer bolts to give it some extra security. This laptop stand will be extending quite far from the wall and will be supporting the weight of a laptop (which isn't exactly heavy but isn't that light either) you'll want to make sure you have a stud in the right spot for this. You could install using drywall anchors but it's going to be a little bit less sturdy and you don't want to risk your laptop falling to the ground. You'll also want to have someone else around to hold the wall mount in place while the other person drills it into the wall.
Pros
Gas spring joints provide ease of movement
Easy to swivel into position
Raises and lowers very easily
Very sturdy when attached to a stud
Holds all laptop sizes
Cons
Slight bounce if forcefully typing
Best for Extra Length: Sunter98 XSJ8013WT Laptop Wall Mount
Best for Extra Length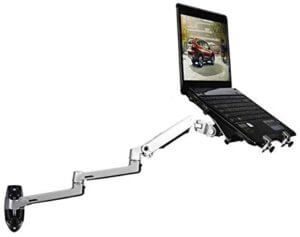 More expensive but comes with extra length
This wall mount is similar in quality to the Fleximounts M10 Laptop Wall Mount but, due to its higher price point and longer arm, we would only recommend this if you specifically need the extra length.
View on Amazon
Vertical Joint Tension
Mechanically tightened
Installation Time
10 Minutes
This arm length is quite impressive. It's about 35″ long which will allow you to extend your laptop almost a yard from the wall.
The general reviews of this product are lower than the shorter Fleximounts one and that's mostly because of a few oddities with the company's shipping and delivery rather than with the product itself. Many of the negative reviews were based on the company shipping the wrong color or the instructions not being included in the box for a few people.
With that being said it is still very well-reviewed and is a high-quality product.
Works for All Laptop Sizes
The stated compatibility for this wall mounted laptop arm is for laptops up to 17 inches. That's about as large as laptops get here in 2020.
Weight Capacity: 18 Pounds
This laptop arm is rated for around 18lbs (or 8kgs) which is more than enough for any laptop made in the last 5+ years.
Supreme Maneuverability and Length
Because there are three segments in this mount it's able to swivel into more shapes than any two segment monitor arms would be able to. Not only does this provide extra length but it also means it can bend around objects and be in the perfect spot.
Pros
Extreme length
Higher weight capacity
Swivels very easily
Holds all laptop sizes
Less type bounce with mechanical tightening
Cons
Mechanical vertical joint requires tightening
Some customers have reported variations in color and shipping oddities